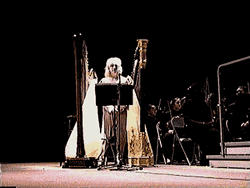 Anne LeBaron
"White Sands.2" (music for video by Seoungho Cho)
A few weeks ago, Seoungho Cho requested that I create a score for his video, "White Sands.2". I was familiar with some of Cho's work already, having admired his skill and aesthetic enough to invite him to join the creative team assembled for my opera, WET, being written this year. When he sent the video for White Sands.2, I set about investigating pure synthesis and internal processing using Reaktor, desiring to reflect the pure and vibrant desert images in Cho's video. The score is in two distinct parts---my thoughts while writing it:
In the desert
so much unseen life
within the dryness
a harsh devastation beckons
into beauty
if you look carefully and patiently.
Hallucinatory...oasis.
Walking in the charred canyons,
scarred by ferocious California fires,
a bluebird skims across the black on black,
swift life intensity.
Green shoots emerge from the ground
surrounding their blackened parent plants,
gentle bright screaming/ fleeting nuggets of pigment.
Rebirth after purification.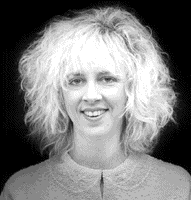 Biography
Anne LeBaron, internationally noted composer, is recognized for her work in instrumental, electronic, and performance realms. As a Fulbright Scholar to Germany in 1980 - 81, LeBaron studied composition with György Ligeti, later completing her doctorate at Columbia University. Her music has been performed and broadcast throughout the U.S. and in Europe and Asia, with performances in Vienna, Canberra, St uttgart, Prague, London, Talloires, Hong Kong, Sydney, Berlin, Havana, and Kyoto. Her numerous awards include a Guggenheim Foundation Fellowship, a Fromm Foundation commission, a McKim Commission from the Library of Congress, several grants from the National Endowment for the Arts, the CalArts / Alpert Award in the Arts, two Pennsylvania State Council on the Arts Fellowships, and a residency at The Bellagio Study and Conference Center. Recordings are available on CRI, Mode, Tellus, Music & Arts, among others. Traces of Mississippi, commissioned by the American Composers Forum, is featured on the PBS documentary "Continental Harmony," airing in cities throughout the U.S. Several new works were completed in the past year, including Hsing, premiered at the Geneva World Harp Congress, Inner Voice, commissioned by Swiss bassist Cristin Wildbolz, Transfiguration, commissioned by the Saarlandischer Rundfunk, and Fleeting Shades, for the Klezmatics and The Jenaer Philharmonie.
Seoungho Cho
Lyrical and visually striking, the video works of Korean artist Seoungho Cho are distinguished by a unique confluence of complex image processing and sound collage. Resonating with a highly metaphorical sensibility, Cho's single-channel tapes and installations are formalist, almost painterly explorations of subjectivity and the subconscious. He received his B.A. and M.A. in Graphic Arts from Hong-Ik University, Korea, and an M.A. in video art from New York University. He has received a Rockefeller Foundation Media Arts Fellowship, a Jerome Foundation grant, and residency at Bellagio. His work is in the collections of the Whitney, Intel Museum, and the Museum of Modern Art, and has been seen on PBS, at the New York Video Festival at Lincoln Center, National Gallery of Art, American Center in Paris, National Film Center in London, Centre d'Art in Spain, ARTE, KUNSTKANAL, Pusan Metropolitan Museum in Korea, and Museum of Image and Sound in Sao Paulo, Brazil.
"Powering Up/Powering Down" is sponsored in part by the University of California Institute for Research in the Arts (UCIRA), the Center for Research in Computing and the Arts (CRCA), and the UC San Diego Department of Music in connection with the departments of Visual Arts, Music, and Literature at UCSD along with the UC Riverside and Los Angeles campuses.